News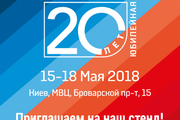 All novelties of 2018 TM "IdeaPro" will be presented at the Aqua Therm Kyiv exhibition, which will be held from May 15 to May 18, 2018 in the IEC prosp. Brovarsky, 15.
We invite the milestones to visit our stands: #1-A5-1 and…
read more...
Дороги теперь не только для езды и прогулок. Новые проекты дорог и тротуаров доказывают, что на улицах может быть как прочное покрытие, так и источник экологически чистой энергии. Рассмотрим шесть проектов, которые имеют весь потенциал технологий…
read more...