News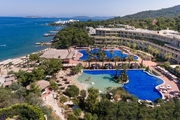 From September 12 to September 18, the annual MIRKOND Dealer Conference was held in Bodrum (Turkey), in the wonderful 5-star VOGUE HOTEL BODRUM hotel on the coast of the gentle Aegean Sea.
The Conference summarized the 2019 season and…
read more...
Representatives of Mirkond Ltd, the exclusive dealer of Idea air conditioners and climate systems in Ukraine, organized and conducted a series of spring regional dealer workshops for partners.
March 13, 2019 the next seminar was held in…
read more...